National Call-in Day to #FreeHugo
Help stand up for Hugo and his family by taking the two steps below. 
NATIONAL CALL-IN DAY OF ACTION
STEP 1: CALL SAN FRANCISCO'S ICE FIELD OFFICE DIRECTOR DAVID JENNINGS!
Dial: (415) 844-5503
Demand that Director David Jennings release Hugo Mejia (A#079-163-283):
"Hello my name is ____________ and I am calling to demand that ICE release Hugo Mejia (A#079-163-283). Hugo is a longtime union member, dutiful family man, and an active community leader. He (nor anyone) should be targeted and retaliated against for trying to work to contribute to their community. He deserves to watch his children grow and go to school. I urge you to stop Hugo's deportation now! Thank you."
STEP 2: Change your District Council social media profile pictures to the graphic featured below and help spread the word!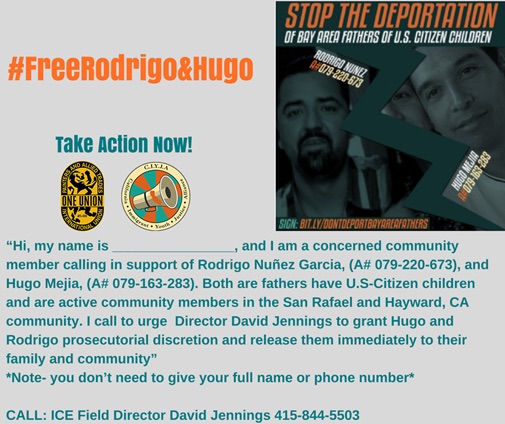 The IUPAT has been fighting tirelessly to support and defend our union brother, Hugo Mejia Murguia.
On Wednesday, May 3, 2017, Hugo showed up to work on a construction job having no idea that it was on a military base, where he would be required to present a social security number. He presented his valid California-issued-Driver's-License and his ITIN (individual taxpayer number) which caused the military to call ICE. He and another union brother, Rodrigo Nunez, were then apprehended at the Travis Air Force base for two hours before being transferred to an ICE detention facility.
ICE has full discretion to release Hugo from custody while his case is reviewed.
The IUPAT mobilized to the local ICE Field Office in San Francisco, where over 100 of our members proudly stood alongside the community in a show of solidarity for Hugo. Lastly, in honor of Father's Day last Sunday, District Council 16 gathered dozens of father's day cards and mailed them to Hugo at the Rio Consumes Correctional Facility, where he is still detained by ICE.
This week, we are heating things up. On Monday, IUPAT launched a Week of Action to #FreeHugo and #FreeRodrigo that culminates with two major actions next week. On Monday,June 19, 2017, we will have a National Call-in Day of Action and Tuesday, June 20, 2017, we will rally again outside the Immigration Courthouse in San Francisco.
For more details on all the events visit: Free Hugo & Free Rodrigo Week of Action Facebook page
For more information amd to keep up to date with what you can do visit: www.freehugo.com.