A Message from BM/ST Joseph Azzopardi
Brothers & Sisters,
The members of DC 9 have made it through great times and terrible times together and we know we'll make it through this pandemic together in solidarity. First and most important is the health and safety of all of you and your families. As jobsites remain open, we are working to ensure they remain safe, clean, and that companies follow the proper health & safety guidelines as it relates to the Coronavirus (COVID-19) outbreak.
If you feel unsafe on your jobsite, let your Business Representative know so we can take the necessary steps to ensure proper procedures are being followed at that particular site and our members who decide to work are doing so on a safe and clean jobsite. If you feel unsafe and decide not to work, that is your choice and we support you in that decision as well. Please let your Business Representative know.
We must stay healthy for our families. If you or your family member has any type of respiratory issue, chronic illness, or underlying health issues you need to be even more careful. With many jobs being open you must make tough decisions on whether you go to work or not. I know this decision can jeopardize yourself and your family members. Whatever choice you make, the DC 9 staff and I support your decision and will help in any way we can.
In order to protect our members and staff, the DC 9 offices throughout NYC and Long Island as well as the Queens Temporary Training Center are closed to member, contractor, and visitor foot traffic until further notice. However, all Business Representatives and essential staff are working on your behalf BOTH in the office and remotely. We are available to support you and handle any issues that may arise throughout this crisis and always. All essential DC 9 contact information is available on on this page.
We understand this is a stressful time for families financially. We're working on several programs to alleviate the financial burdens effecting our members and their families during this crisis. We will be sending out additional information through text and social media to share updates and resources that are already available on the DC9 website to help you and provide any info you may need to get through this crisis.
In solidarity,
BM/ST Joseph Azzopardi
Click below for:
Information | Resources | NYS Reopening Plan & Guidelines | Virtual Safety Training | Coronavirus Preparedness Training | Political Action | Contact Information
Coronavirus (COVID-19) Updates & Information
We are continuously monitoring the ongoing developments related to the Coronavirus (COVID-19). The safety and well-being of our members and staff is our highest priority and we want to let you know what steps and precautions we are taking.
First and foremost, we want to maintain a safe workplace and encourage and/or adopt practices protecting the health of our members, employees, visitors or others.
We also want to ensure the continuity of operations in the event of a pandemic.
We ask all members to cooperate in taking steps to reduce the transmission of communicable diseases on the job site as well as at the union offices. Members are reminded of the following:
Stay home when you are sick.
Wash your hands frequently with warm, soapy water for at least 20 seconds.
Cover your mouth with tissues whenever you cough or sneeze, and discard used tissues in the trash.
Avoid people who are sick with respiratory symptoms.
Clean frequently touched surfaces.
The District Council 9 Offices throughout New York City and Long Island, including the Queens Temporary Training Center location are closed to member, contractor, and visitor foot traffic until further notice. Business Representatives and essential staff are working BOTH in the office and remotely. See below for contact information and directory so you can contact both Union and Benefit Fund staff with your questions.
It is critical that Members do not report to work while they are experiencing respiratory symptoms such as fever, cough, shortness of breath, sore throat, runny or stuffy nose, body aches, headache, chills or fatigue. Please refer to the Resources section below for additional information.
It is also critical that Members do not report to work if any relatives of your household are experiencing respiratory symptoms, or are currently under a quarantine as a result of having close contact with a person with symptomatic, laboratory-confirmed COVID-19, or person under investigation. Close contacts should monitor their health; they should call their healthcare provider right away if they develop symptoms suggestive of COVID-19. If this applies to you please contact your supervisor immediately.
Please contact your union business representative with any questions or concerns. See below for contact information.
Resources
COVID-19 Resources:
Please visit the links below for helpful information from the CDC, OSHA, and WHO regarding the coronavirus.
New York State COVID-19 Testing
If you are experiencing symptoms of COVID-19, you're encouraged to contact your doctor and get tested. View NYS COVID-19 testing eligibility criteria and locate a testing site in your area by clicking here. Individuals who have questions regarding eligibility or access for testing should call the New York State COVID-19 Hotline at 1-888-364-3065 or visit the NYSDOH website by clicking here.
New York State Unemployment Resources
NYS is waiving the 7-Day waiting period for Unemployment Insurance benefits for people who are out of work due to Coronavirus (COVID-19) closures or quarantines. If you are currently out of work or unemployed due to the Coronavirus (COVID-19) outbreak you may be eligible for unemployment insurance benefits. Please refer to the links below to find out more information.

New York State Paid Sick Leave
New York State has passed a bill that expands paid sick leave to all public and private sector workers forced into precautionary or mandatory quarantine due to the coronavirus (COVID-19). Workers subject to mandatory or precautionary governmental quarantine or isolation orders may be eligible to receive paid leave during their quarantine or isolation regardless of whether they are diagnosed. Additional information regarding NYS Paid Sick Leave can be found by clicking here. Guidance from NYS on Obtaining Paid Sick Leave can be found by clicking here. The bill can be viewed using the link below.
Federal Assistance in response to COVID-19 (Source: North America's Building Trades Unions (NABTU))
Congress has passed two major pieces of legislation addressing COVID-19, and the president has signed them into law. The Families First Coronavirus Response Act (FFCRA) and the Coronavirus Aid, Relief and Economic Security Act (CARES Act) were designed to provide economic relief for businesses and workers severely impacted by COVID-19. NABTU lobbied very aggressively to ensure each bill contained policies that would help the working families of the construction industry as well as its contractors.
Additional COVID-19 Updates and Resources
DC 9 Members Assistance Program (MAP)
If you are struggling with mental, emotional, or substance use issues the during this crisis or at any time, the DC 9 Members Assistance Program is here to help . This confidential program offers referral services and guidance for problems such as mental and emotional illness as well as substance use disorders to all DC 9 members and their dependents.
Please call Members Assistance for help at 914-417-5355
Our Substance Abuse providers are still excepting both inpatient and outpatient members and families that need help. Our providers are using virtual on-line counseling at our facilities in an outpatient setting and our inpatient facilities are adhering to the strictest of standards if inpatient help is needed.
For those of you who need continued Self-help Services and are having trouble accessing during this crisis – Please call or log-on to NYC, Nassau, and Suffolk. New Jersey or Upstate Intergroup for virtual AA or NA meetings:
We urge you to seek help, help each other, and stay safe.
NYS Reopening Plan & Guidelines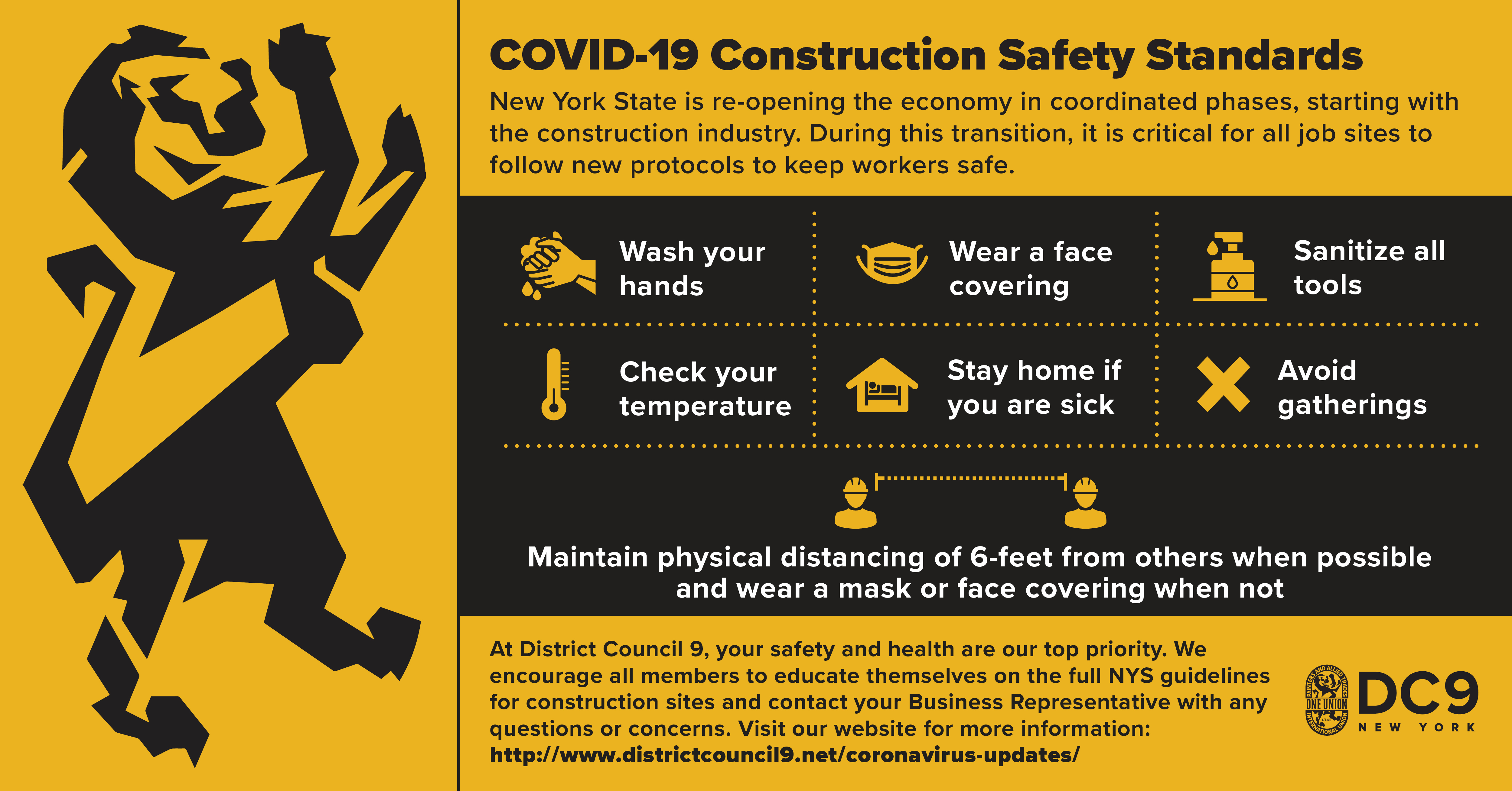 New York State Reopening Plan & Industry Specific Guidelines

The reopening of the economy is being conducted in phases by region based upon specific COVID-19 related criteria for preventing and mitigating further spread of the virus. For the full New York State Reopening Plan: New York Forward and industry specific health & safety guidelines click here. To find out information and criteria of which regions of New York are reopening first, please click here.
Construction Industry Guidelines
At District Council 9, our top priority is the health and safety of our members, which is why we're asking all members to be aware of the current guidelines required of employers and employees on all job sites. A summary of the guidelines can be viewed here and the full guidelines can be viewed by clicking here.
This applies to all construction businesses in regions of New York that have been permitted to re-open, as well as to construction businesses statewide that were previously permitted to operate as essential. These health and safety measures are intended to prevent and mitigate any exposure of the workforce to COVID-19 by focusing on the following areas:
Physical Distancing
Protective Equipment
Cleaning and Hygiene
Communication
Screening
As you return to work, we ask that you comply with these guidelines to protect yourself, your family, and other workers on your job site. It will be frustrating at times to adjust to the new procedures, but remember you are taking steps that will ensure the safety of yourself and others and ultimately save lives.
If you have any concerns about your safety or the health and safety measures on your job site, contact your DC 9 Steward and/or your Business Representative. Our collective efforts will lead the way to a full reopening of our regional economy without further loss of life and most importantly ensure the safety of ourselves and our families. For contact information, click here.
Virtual Training
DC 9 Finishing Trades Institute of New York (FTINY) Virtual Training
Due to the COVID-19 outbreak, the Long Island City training center is temporarily closed to all outside foot traffic. We've established online courses for remote learning and are continuing operations to meet the needs of our members.
To register for a class, please email safetyclass@ftiny.org with your Name, Phone Number, and the Class you're interested in. (Please note, only class registration requests will be accepted at this email address; no other information is available through this account.) 
The following safety training courses are available for virtual training:
OSHA 10
OSHA 30
NYC DOB Site Safety Training Courses
Fall Protection
Hazardous Communications
Lead Awareness
PCB Awareness
Confined Space Awareness
LL 52 Supported Scaffold User
Suspended Scaffold Refresher
Please be aware, the FTINY staff is working and available for any questions or concerns you may have regarding training and safety certification during this crisis and always. Please call FTINY at 718-937-7440 for information regarding safety requirements, safety course sign-ups, our temporary location or any questions you may have regarding apprenticeship or training.
Coronavirus Preparedness Safety Training
COR 195: Coronavirus Preparedness for Employers and Employees
The IUPAT and International Finishing Trades Institute have introduced a new course OPEN TO ALL MEMBERS. The course is called COR 195: Coronavirus Preparedness for Employers and Employees. The course has been made available on the IFTI's online Learning Management System (LMS), and all members have been pre-registered.
Missing your IUPAT Member ID? Check your IUPAT Member App, on your dues receipt, or on the address panel of the IUPAT Journal. For further help finding your IUPAT Member ID, call the IUPAT Union Helpline: 410-862-8001.
Political Action
Tell Congress: Don't leave construction workers behind
COVID-19's impact is financially devastating for millions of working families in the construction industry and beyond who are now grappling with tremendous uncertainty about what their paychecks, health care, and future will hold. In just one week, we have already seen the economic impact to our industry through widespread and sudden layoffs in many areas of the country.
Right now, large corporations are lining up with their hands out for federal aid, while workers are losing their jobs, their health insurance, and their economic security. Our membership works in every sector of the US economy from hospitality, retail, real estate, infrastructure, to the public sector.
Join us in the fight to ensure our members and workers across this country are not left behind by Congress. Send a letter to your Representative and Senator now by clicking here!
Sign a petition to Speaker Nancy Pelosi and Majority Leader Mitch McConnell by clicking here!
Key Contact Information
We will continue to operate on a day to day basis. We ask all our members, visitors and staff to cooperate in taking these steps to reduce or prevent the spread of illness, until further notice Members are encouraged to use telephone and email instead of face to face meetings as much as possible during this outbreak.
BUSINESS REPRESENTATIVE & LOCAL UNION CONTACTS
NYC Local Union Contacts
Painters Local 18 – Veronica Luciano – Email: verolucigar@gmail.com  – Phone: (646) 246-5292
Painters Local 19 – Richard Small – Email: rsixmen@aol.com – Phone: (646) 209-8075
Painters Local 20 – Wilfredo Garay  – Email: wilorganize22@gmail.com – Phone: (646) 675-9234
Painters Local 24 – Ernest Castellana – Email: ernielu24@gmail.com – Phone: (347) 262-3552
Paperhangers Local 490 – Gerard O'Brien  – Email: gerarddc9@aol.com – Phone: (516) 884-5067
Maintenance Local 1456 – Ken Erdman – Email: kenerdmann398@gmail.com – Phone: (516) 849-4484
Civil Service Local 1969 – Stephen Melish – Email: melish1969@aol.com – Phone: (917) 838-2066
Westchester (Local 113)
Rob McClinchey – Email: mcclinch2@gmail.com – Phone: (845) 518-7962
Chris Holmes – Email: cholmes8286@gmail.com – Phone: (732) 703-3284
Hudson Valley (Local 155)
Anthony Speziale – Email: spezdc9@aol.com – Phone: (914) 260-1807
Albany (Local 201)
Lee Eck – Email: dc9eck@aol.com – Phone: (518) 248-6487
Long Island (Local 1486)
Joseph Padilla – Email: josephpadillaop24@gmail.com – Phone: (516) 707-1962
Metal Polishers Local 8a-28a
Albert Blair – Email: ablair@dc9.net – Phone: (646) 271-5306
Glaziers Local 1087
Stephen Bermingham – Email: Bermo1087@gmail.com – Phone: (631) 860-8780
Steve Brice – Email: stevebrice04@gmail.com – Phone: (516) 782-3636
Bridge Painters Local 806
Brain Casey – Email: bcasey6009@gmail.com – Phone: 212-447-0188
Nicholas Milazzo  – Email: nicholasdmilazzo@gmail.com – Phone: 347-749-5022
Drywall Tapers Local 1974
Richard Jacobs Jr. – Email: richardjacobsjr@gmail.com – Phone: (718) 757-6751
Gabriel Pineda Jr. – Email: gabepineda1974@gmail.com – Phone: (347) 401-8528
BENEFIT FUNDS CONTACTS
Painters Industry Insurance Fund  (Health & Welfare, Annuity)
Rica Ciocoi – Email: ricac@dc9.net – Phone: 917.305.4362
Emily Lafferty – Email: elafferty@dc9.net – Phone: 917.305.4313
Lloyd Goldenberg – Email: lgoldenberg@dc9.net – Phone: 917.305.4356
Kevin McMenomy – Email: kevinm@dc9.net  – Phone: 917.305.4369
Local Union 8A-28A Benefit Funds
Receptionist/Union – Clara Alal- Email: receptionist@local8a28a.com – Phone: 718-361-1770 Ext. 110
401 (k) Retirement Fund- Carolyn Silva- Email: csilva@local8a28a.com – Phone: 718-361-1552 Ext. 121
Welfare Fund (Benefit)- Gloria Diaz- Email: gdiaz@local8a28a.com – Phone: 718-361-1552 Ext. 129
Controller- Nirmala Lall- Email: nlall@local8a28a.com – Phone: 718-361-1552 Ext. 141
Fund Administrator – Joseph Ramaglia – Email: joelu806@aol.com – Phone: 718-361-1552
Drywall/Tapers Local Union 1974 Benefit Funds
Annuity, Benefit & Billing- Melissa Velazquez – Email: MVelazquez@drywallfunds.org – Phone: 212-242-1616 Ext. 217
Medical, Enrollment & Annuity- Zaida Marquez – Email: ZMarquez@drywallfunds.org – Phone: 212-242-1616 Ext. 233
Medical, Enrollment & Annuity- Erika Perez – Email: EPerez@drywallfunds.org – Phone: 212-242-1616 Ext. 210
Fund Administrator: Joseph Ramaglia – Email: joelu806@aol.com – Phone: 718-361-1552