At District Council 9 we see our apprentices as future members. We offer apprentices on-the-job and in-classroom training to ensure they are ready to tackle the complex New York City building market. And yes, they are paid positions.
Upcoming Recruitments
Glazier Apprentices – Hudson Valley, Long Island, and New York City –  Beginning May 6, 2022
Metal Refinisher Apprentices  – New York City and Long Island – Beginning May 20, 2022
Apprenticeship Eligibility
Apprenticeship applicants, before being accepted as Apprentices, must be able to meet the following requirements:
Applicants shall fill in the application form in person.

Must be 18 years of age.

Must produce their high school diploma or GED.

Demonstrate evidence of ability to reach remote job sites.

Must produce proper identification

Applicants must be physically able to perform the work required of the trade
The apprenticeship program consists of on-the-job training and related classroom instruction. Apprentices must attend classroom training and maintain a satisfactory attendance record.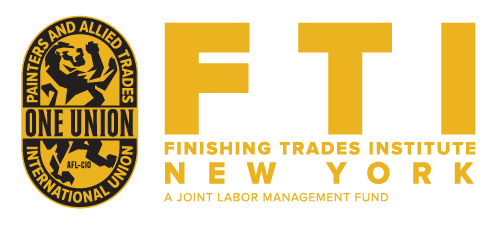 Apprenticeship Details by Trade
Advantages
As a member of District Council No. 9 many benefits will be available to you, including fair wages and a benefit package. Along with these benefits, you will have the chance to upgrade you skill on many different levels during you career at our training center. All skills upgrade courses are a benefit to all our members. Every instructor is certified and trained to instruct each class they teach. Each apprentice has the opportunity for advancement in the field. Shop Stewards, Foremen, Estimators, Supervisors and Union Officer all come from the rank and file of District Council No.9. Monthly Local Union Meeting held in each geographic area of the voice in all business conduct by the District Council and International Union of Painters and Allied Trades.
Apprentices are employed workers. They are given regular wage increases and diversified training.
Apprentices learn a skill that lets them and their family enjoy a good standard of life.
Apprentices are paid good wages while they learn the trade.
Our members are part of one of the most politically active unions in New York City.
Safety Classes
Included in the below list of classes we offer are NYC DOB courses. These courses include:
Cranes & Derrick Courses 

16-Hour Rigging Worker
32-Hour Rigging Supervisor

Scaffold Courses

4-Hour Supported Scaffold User & Refresher
32-Hour Supported Scaffold Installer & Remover
8-Hour Supported Scaffold Installer & Remover Refresher
16-Hour Suspended Scaffold User
8-Hour Suspended Scaffold User Refresher
32-Hour Suspended Scaffold Supervisor
8-Hour Suspended Scaffold Supervisor Refresher
All courses are given at our LIC Training Facility located at:
45-15 36th St,
Long Island City, NY 11101
Phone: 718-937-7440
Fax: 718-937-4320
The following courses are currently scheduled for 2022:
Suspended Scaffold 8-hour Refresher for 16-hour Worker – March 12 @ 8AM
Suspended Scaffold 16-hour Worker – March 21 & 22 @ 8AM
Suspended Scaffold 16-hour Worker – April 30 & May 7 @ 8AM
SST Supervisor – April 30 @ 8AM
To see a list of the safety classes offered by FTINY, please click on the PDF below.